Drowning
Craig Boreham,  2009, 20′, fiction
Les choses changent pour Mik. Son monde a été bouleversé par la mort soudaine de son frère aîné, ce qui l'oblige à redéfinir sa place dans sa famille. La seule chose solide dans la vie de Mik est son meilleur ami Dan. Mais Dan a une nouvelle petite amie…
Things are changing for Mik. His world has been turned upside down by the sudden death of his older brother forcing him to redefine his place in his family. The one solid thing in Mik's life is his best friend Dan. But Dan has a new girlfriend…

---
The Drowning Pool
Aaron Bergman Jackson, 2016, 12′, fiction
Ethan et Alice forment un jeune couple séduisant qui vit dans une belle maison. Mais un moment de passion impliquant un voisin peut  transformer une vie parfaite en roman policier.
Ethan and Alice are an attractive young couple in a beautiful home. But a moment of passion involving a neighbor can spiral a perfect life into a who's-doing-who whodunnit.
A voir en VOD : https://vimeo.com/ondemand/thedrowningpool
---
Aqua Profonda
Nathan Campbell, 2014, 1'35, fiction animée
Un court métrage sur le fait de grandir sur des côtes opposées de l'Australie et d'avoir peur de l'eau.
A short film about growing up on opposite coasts of Australia and fearing water.
---
Chlorine
Mélissa Anastasi, 2019, 17'25, fiction
Dans un effort désespéré pour attirer l'attention, Keira, 11 ans, vole compulsivement des affaires appartenant à des femmes enceintes dans le centre aquatique local. Mais ses actes lui font courir le risque de perdre la seule famille qu'elle possède.
In a desperate bid for attention, 11-year-old Keira compulsively steals from pregnant women at her local aquatic centre. But her actions put her at risk of losing the only family she has.
---
Somersault Pike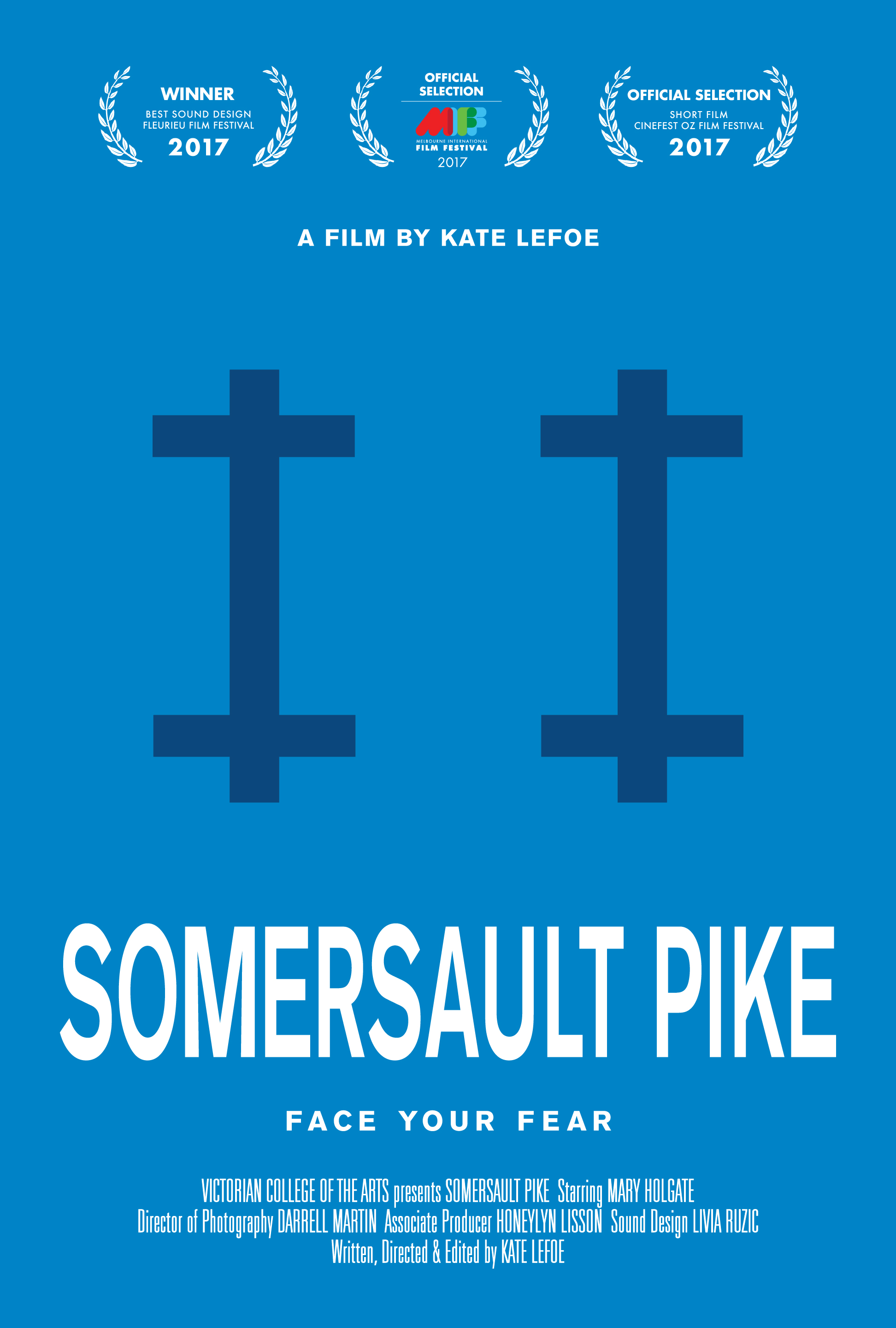 Kate Lefoe, 2016, 6'30, fiction
Une plongeuse affronte ses peurs face au plongeoir de 10 mètres.
A competitive diver faces her fears while taking on new heights.
---
Pacing the Pool
Radheya Jegatheva, 8'29, 2021, documentaire
Un petit aperçu de la vie de Richard Pace, de Perth, et de ce qui se cache sous la surface. Pour Richard, l'eau a été non seulement la source de la vie, mais aussi la source de la guérison physique et mentale.
A tiny glimpse into the life of Perth man Richard Pace, and what lies under the surface. To Richard, water has been not only the source of life, but also the source of physical and mental healing.
---
Adults swimming
Ivan Dixon, 2014, 13″, fiction animée
Quelque chose à ajouter à la liste des choses qui vous font peur à l'idée d'aller nager à la piscine près de chez vous.
Something to add to your fears of swimming at your local pool.

---
Pool Envy
Simon Temple, 2005, 5′, fiction
Pendant une vague de chaleur, Barry remarque que la piscine d'à côté n'est jamais utilisée. Observant attentivement les mouvements et habitudes de son voisin, il saisit l'occasion de son départ régulier pour profiter de sa piscine. Pour Barry, ces baignades interdites tournent à l'obsession. Linda, sa femme, est frustrée par son comportement, craignant qu'il ne se fasse prendre. Un appel téléphonique du voisin donne de la joie à Barry et une idée à Linda qui, se sentant rassurée, décide finalement de faire son premier plongeon dans la piscine…
During a heatwave, Barry notices the pool next door is never used. Carefully watching his neighbours movements, he seizes the opportunity to take relief in the neighbour's pool. His first dip turns into an obsession. Linda, his wife, is frustrated at his behaviour, concerned he is going to get caught. A phone call from the neighbour brings joy to Barry and an idea to Linda. Feeling safer, Linda finally takes her first tentative dip into the pool…
---
Grace under water
Anthony Lawrence, 2014, 8'10, fiction animée
C'est la guerre froide entre Lou et son insupportable belle-fille Grace. Mais à l'occasion d'un bel après-midi à la piscine, une mésaventure va faire remonter les démons du passé à la surface, poussant la jeune femme à affronter une vérité refoulée.
Lou is losing the cold war with her stubborn and enigmatic stepdaughter Grace when an unexpected challenge arises from the depths of a warm, dreamy afternoon at the local pool. Shadows from the past bear down the present as Lou is forced to face the truth about herself and the frustrating child she is trying to love.
---
No School, no Pool
Evan Cunningham-Dunlop, 2005, 4'26, documentaire
Les enfants de Burringurrah étaient autrefois une bande tranquille, mais tout a changé le jour où leur communauté isolée a obtenu une piscine ! Petite colonie comptant quelques 200 personnes, la communauté aborigène de Burringurrah étouffe sous la chaleur oppressante de l'Outback australien. Mais maintenant qu'une piscine de taille olympique a été construite au milieu de la ville, cette nouvelle oasis fait des vagues, à bien des égards.
The Burringurrah kids used to be a quiet mob, but that all changed the day their remote community got a swimming pool! A small settlement of sometimes up to 200 people, the Burringurrah Aboriginal community swelters under the oppressive heat of the Australian Outback. But now that an Olympic-sized swimming pool has been built in the middle of town, this new found Oasis causes a splash in more ways than one can imagine.
---
Breathless
Peter Ireland, 2010, 8′, fiction
Une femme dont le fils s'est noyé combat son chagrin en s'immergeant dans la piscine familiale, et s'isole progressivement du reste de sa famille.
A mother who has lost her young son in a drowning copes with her grief by submerging herself in their backyard swimming pool.